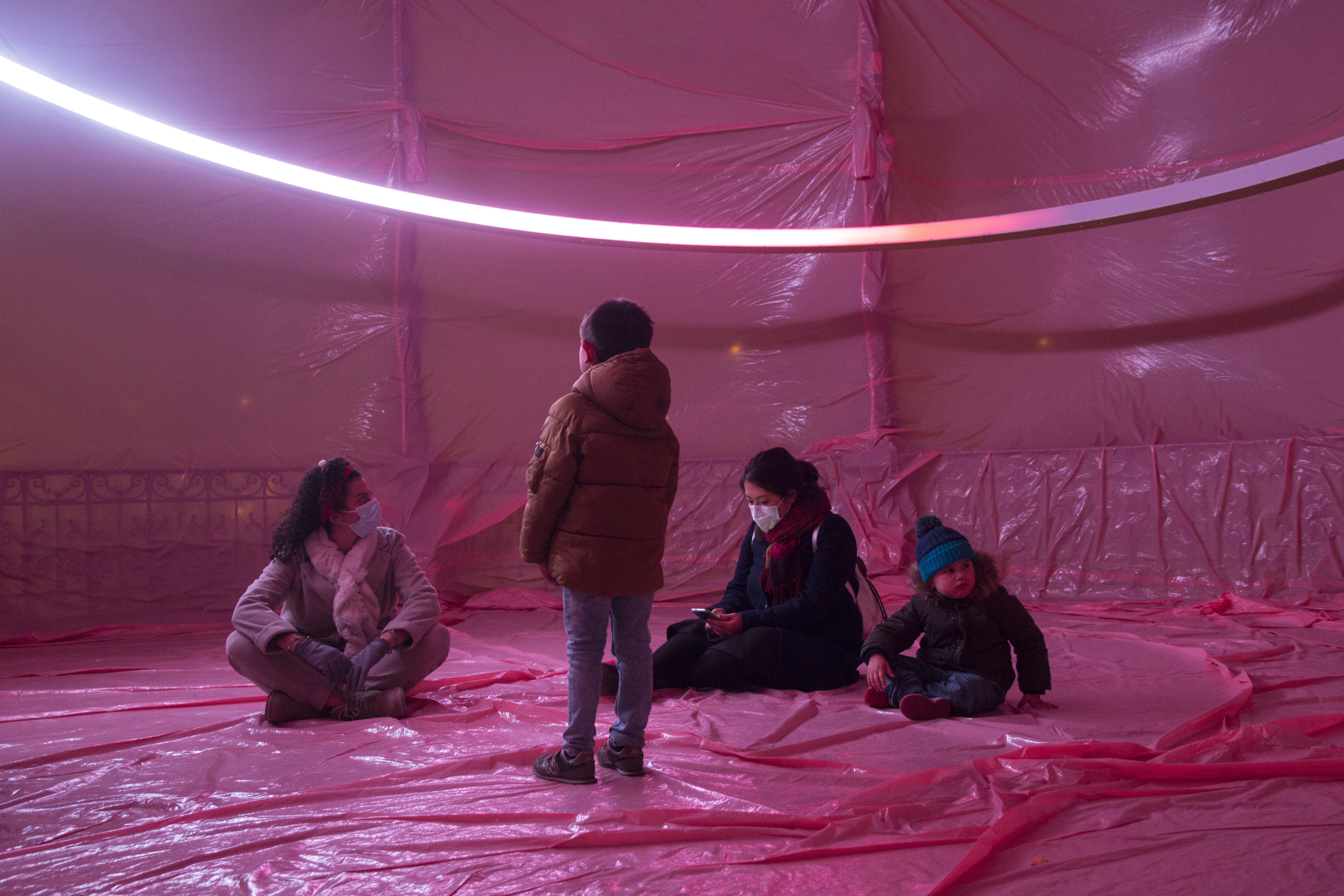 Coreto. 2021
Audiovisual Installation | Public Space

10m x 10m x 5m. Recycled plastic, digital LED, steel, plexiglass, neon lights, bulbs, dmx motor, ventilators, hazer machine, custom software.


Coreto is a ephemeral installation created in collaboration with Penique Productions.


A tailor-made balloon expands filling the whole pavilion and becoming part of its own architecture. The inflatable acts as a boundary, framing a new space where the audience is welcome to enter and interact with the building completely transformed by a new texture.


Inside, a light-colored installation is triggered by the sound. The sonic composition is based on several recordings from the city and a live processed microphone that takes the sound from the outside in real-time. This type of constructions were commonly used to stage musicians that were playing for the city. With Coreto we aim to create a listening experience where the city plays for the building, and the audience is invited to slow down, listen and experience the urban soundscape in a completely different way.

Credits:

Commission: Festival Pléiades

Host: Ville de Saint-Étienne

Idea | Light | Sound | Software: Marc Vilanova
Inflatable: Penique Productions

Production: Raphael Jourjon
Technical Production: Abdenour Titiem
Metal Work: 2monos

Lighting Fixtures: Luz Negra
Lighting Technology: Protopixel

Installation Support: Dominique Bour, Lary Jean-Batiste, Jonathan Nicodème, Laurraine-Sophie Plantegenest, Saint-Étienne Tech Team

Special Thanks: Jerome Villeneuve, Laura Segura, Mateu Targa, Joan Albert Gisbert, Berni Puig, Konvent.0

Photos: Anna Benet