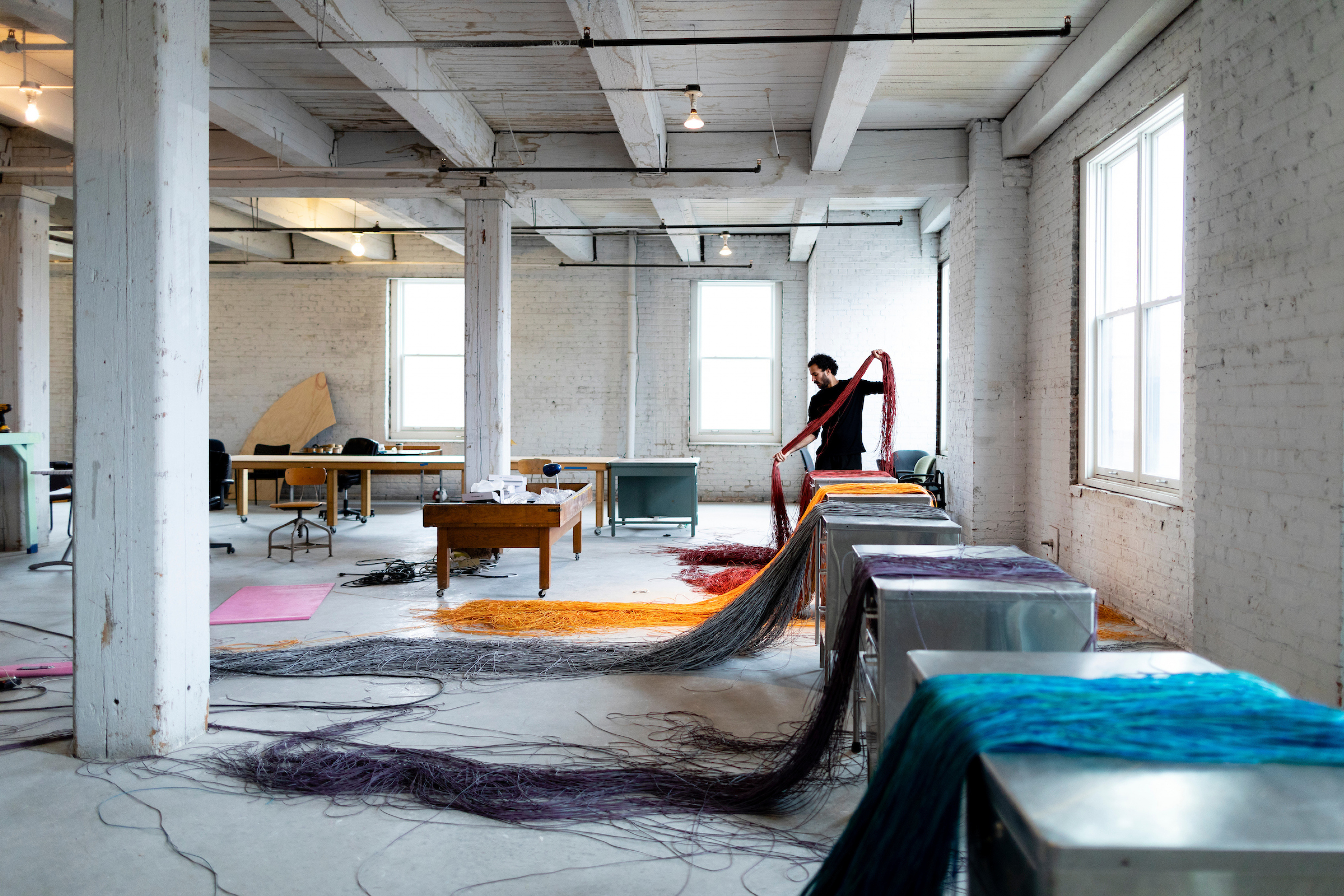 Spike. 2019
Sond/Light Installation


4m x 4m x 3m. 8 channel sound, 14.200 ribbon cables, 210 LEDs, wood, braided steel cable, dmx controllers, custom software.
Spike is a large sculptural sound installation based on recordings of electromagnetic fields. The artists captured the invisible electromagnetic fields that he was encountering during a regular day from all kinds of common electronic devices. The frequencies were captured using a magnetic antenna and a pickup coil.

A suspended wooden structure hangs 14.200 ribbon cables used in old computers. More than 300 of those cables have a little LED at the end that synchronizes with the sound material. The sculpture performs the recordings of invisible electromagnetisms that surround us while creating a sort of shield experience once you are inside.
Credits

Created during a residency: Bemis Center For Contemporary Arts

Idea | Construction | Light | Sound | Software: Marc Vilanova

Studio Assistant: Alex Jacobsen

Help: John Round, Katie Marya, Tyler Swain

Technical Support: Prototype Design Lab, Metropolitan Community College
Special thanks: Josh Johnson, Holly Kranker, Igi Ayedun, Sylvie Fortin, Rachel Adams, Chris Cook, Cameron A Granger, Rodney Ewing, Irini Miga, Adam Milner, Kandis Friesen, Jes Fan, Melanie Mclain, J.C Todd, Joel Kuennen, Konvent.0

Camera: Itzi Calle

Video Edit: Mac Vilanova

Color: Carles Pons Altimira

Sound Mixing: Santiago Latorre

Photo: Itzi Calle, Colin Conces